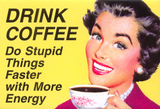 I'm conducting an experiment...

This way maybe DD friends can keep up with me and I can share my innermost thoughts and feelings that I don't want to share on FB. Sometimes my impulsivity coupled with PMS is not such a good thing. Now I have to do all this work! haha.

I feel so weird when it comes to my info floating around in the ether....we'll see how it goes.

Went looking for granite for our kitchen countertops yesterday- yay! There is a granite supply/fabricator that is going out of business and selling off their slabs so I wanted to get an idea of what's out there. It's definitely cheaper than buying from Home Depot or Lowes but may not be cheaper than using another local fabricator. Eh, we'll see. At least it galvanized me into action to get some quotes from other fabricators. Other countertop possibilities include soapstone...I kind of like the way that looks. I'd like to go with a recycled concrete/glass too but it's super expensive. bummer, guess I won't be going "green" on this one. Gotta' save the green...haha.


Friday is our last homestudy meeting. I'm looking forward to being done with this part of the process.


Tonight we're going to see No Doubt! Super happy that it's a nice dry day since the concert is at an ampitheater.